Forza Finance | 14 October 2021
Best Cars For Dogs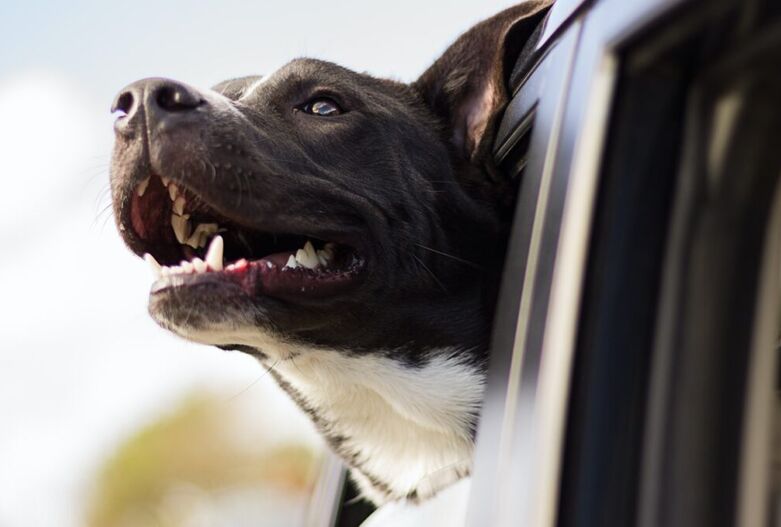 Travelling with humankind's best friend isn't exactly a walk in the park (pun intended).
Putting your dog's comfort first means giving them plenty of space when you have to hit the road. But knowing where to start can be difficult, especially since the vet isn't handing out car advice.
So if you are looking for a dog-friendly car that you and your pup will love, Forza Finance has come to the rescue with the best options to suit the fuzziest member of your family.
Car Features Dog Owners Should Look For
When searching for a new vehicle that suits both humans and pets alike, there are a few key features you should look for:
Air conditioning
Boot design: ideally your boot should be sturdy and low so you won't have to carry your dog into their space
Dark interiors that can hide the occasional scratch and dirty paw mark
Dual climate control and tinted windows: both to help keep your dog cooler in the summer
Partition grills: these will stop your pooch from trying climbing closer to you (or the food shopping)
Now, let's go over which cars best suit your four-legged friend.
Best Cars For Small Dogs
For your smaller pups, these are our recommendations:
Volkswagen Caddy Life – Boot space: 340 litres
With a flexible interior and sliding doors on both sides, the Caddy Life is a dream come true for canine owners who would rather have their pet in the rear seats instead of in the boot (especially when they are small and you need to keep a close eye on them).
The back seats can still be removed though and create a massive cargo space, but we would recommend against it: not only is it time-consuming, but having the seating in is quite helpful when it comes to using the car boot for groceries, luggage, or anything else you would rather avoid your furry companion to access.
Vauxhall Mokka X – Boot space: 356 litres
In terms of value for money, the Mokka X earns big points. Not only does it come at an affordable price, but it also has low running costs. With a generous enough boot, this vehicle can cater to human and dog needs alike.
Perks: the low loading lip and wide boot opening make it easier if you have to help your smaller pups get in the back and are safer for them to hop out when the car ride ends.
Mitsubishi Outlander PHEV – Boot space: 463 litres
The PHEV offers a spacious interior with one of the key features we love: a tall side glass that is tinted, so both you and your dog can keep cool.
Safely and comfortably carrying your pet is trouble-free given that the space behind the second row can easily accommodate a dog travel crate.
Audi A4 Avant – Boot space: 505 litres
Car performance aside (though the A4 Avant has plenty to brag about in that section), this vehicle proves you can be sporty and still pet-friendly. From the boot area that can easily accommodate a furry companion, the wide boot opening and the lack of load lip, everything about this Audi works in harmony so that driver and pet can enjoy all the car trips. It's no surprise it made our list of our Top Prestige Cars Under £20,000.
Looking for dog accessories to make your pet extra comfortable? Take a look at Audi's dog add-ons page.
SEAT Ateca – Boot space: 510 litres
Happy dogs and big families, the SEAT Ateca is designed specifically for you!
With more than enough room for your furry friend, Ateca's pet-friendly features include an additional high-sided load line, along with a cargo separation grille and split boot floor for a perfect partition between your dog and your shopping. View all of Seat's dog accessories to find the one that matches your needs.
Best Cars For Average Size Dogs
Here are our top vehicle recommendations for your medium-sized fuzzy pals:
Volvo V60 – Boot space: 529 litres
The Volvo V60 is one of the safest vehicles on the market according to the Euro NCAP safety rating. Ideal for dogs who need a quiet drive to feel comfortable, the Volvo V60 guarantees a relaxing journey. The low cargo floor ensures your four-legged companion will have no problem climbing in the back, the hands-free liftgate and large boot makes it easy to store all your additional items. Make sure you don't miss the Volvo pet accessories pack for any extras you might need.
BMW 5 Series Touring – Boot space: 560 litres
For all those long-distance drives that require an extra level of comfort and protection, the 5 Series Touring is the answer. The boxy layout and load bay dimensions offer a full-proof comfortable doggy journey, and the low load lip is the cherry on top. Best of all: this BMW comes packed with a retractable luggage net, so if you are a first-time dog owner you don't need to worry about installing a partition to keep your dog from hopping about. It is also one of the best company cars in the market.
Nissan X-Trail 4Dogs – Boot space: 565 litres
The intention of the X-Trail is simple: a dog-friendly crossover meant for families. The car boot can accommodate two cars on quick journeys easily, but that is not even the most impressive part! The X-Trail 4Dogs vehicle concept includes a two-way "dog cam" (with two screens: one on the dashboard display and the other LCD screen in the back), a pull-out utility drawer with a water shower and dryer for easy cleanup of muddy paws, as well as an access ramp.
Nissan knows how to cater to all dog lovers, so if this is not enough, Nissan's Paw Pack makes sure your pet can travel with extra style.
Dacia Logan MCV – Boot space: 573 litres
The Dacia Logan MCV is an understated vehicle. For the discreet owner who knows his canine companion only wants space and an open window to stick his head out of, the MCV ticks all the boxes. Not only is it light in the wallet of any practical buyer who would rather shell out on dog treats than four wheels, but it is also surprisingly comfortable to drive.
The only warning is don't skip on the additional trims: we're not saying go all-out with the latest tech, but air-conditioning and electric windows are essential.
Jaguar E-PACE – Boot space: 577 litres
Your pet deserves to relax and enjoy the ride, and you deserve quality and comfort too. Jaguar proves the best of both worlds is easy to achieve with the Jaguar E-Pace.
Thanks to solid and traditional steering, this Jaguar model remains stable on off-road adventures. You know what that means: no more arriving late to your destination because you had to drive extra-carefully to avoid bumps on the road and pup injuries.
And if you were wondering, Jaguar has developed their own Pet Pack, so your loyal companion can join you on every adventure worry-free.
Best Cars For Large Dogs
These are our safe family cars that are great for your bigger furry friends (or in case you have more than one):
Mercedes-Benz E-Class – Boot space: 640 litres
Because all dogs deserve their taste of prestige paradise, Mercedes-Benz designed the perfect car: a flat load bay for easy canine access, a large comfortable boot for long drives, and an air suspension system to lower the height in case your pooch needs a little help.
Volkswagen Passat – Boot space: 650 litres
Taking your big pet to the vet is about to become a breeze. Not only does the Passat offer a more than spacious load bay, the low access guarantees that getting your dog in and out of the car will be effortless.
Skoda Superb Estate – Boot space: 660 litres
The large boot on the Superb Estate is only the first large canine-friendly feature. Between the low load lip and the large opening, any excited dog should have no problem jumping in and out. The soft suspension also means your pet will be comfortable when there are bumps on the road.
The Forza team tip: boot side cubbies are ideal for storing all small items that you don't want your dog playing with during the drive (a doggy treat hidey-hole indeed).
Peugeot 308 Sportswagon – Boot space: 660 litres
The fuel economy on this Peugeot is one of the reasons it had to be featured in our list: if your furry companion is not a big fan of long drives, the efficient 1.5-litre BlueHDi diesel guarantees short fuel stops so you can get back on the road fast.
The height on the 308 Sportwagon is also ideal for dogs that are either slim and tall or just love riding sitting as opposed to laying down during car journeys.
Land Rover Discovery Sport – Boot space: 754 litres
The Discovery Sport easily transforms from a large family SUV to a dog's dream car when the last row of seats is lowered. The boot opening is large, the load bay flat and the immense cargo area with boxy shape answers all your big dog needs.
And because your pet travels wouldn't be complete any other way, Land Rover has a line of pet accessories: a must-visit for all Rover lovers.
Hopefully, this list has helped you pick safe transport for your four-legged companion. So if you are otherwise all set for your canine-friendly road trips and want to know about finance options for your car, the team at Forza Finance can help you! All you have to do is head to our car finance options page and choose which finance alternative works for you or contact our pup-loving team of finance professionals.