Forza Finance | 07 March 2022
Social Media's Most Popular Cars 2022
As social media has grown over the last few years, it has become more and more popular to showcase different cars and car brands. Some cars have become very popular and range from platform to platform. The cars on this list have been measured in popularity using interactions and the number of posts.
From TikTok to Instagram, these are the most popular cars.
Mercedes Vision AVTR
The Mercedes Vision AVTR is one of TikTok's most popular cars. Although this one isn't available to buy and is a concept car, it has still captured viewers with the look and advanced technology
"Inspired by AVATAR", the Mercedes Vision AVTR is a car like no other and looks like something out of a movie. The AVTR has "four high-performance and near-wheel-build electric motors" producing 350+ kW of power. One of the distinct features of the AVTR is the lack of a steering wheel. Instead, the AVTR is controlled by a joystick in the centre console. According to Mercedes-Benz, "by placing the hand on the centre console, the interior comes to life and the vehicle recognises the driver by his breathing." The AVTR has an infotainment system like no other! The surrounding area around the vehicle is shown on the dashboard using 3D graphics as well as showing everything in front of the vehicle. The Mercedes-Vision AVTR is currently a concept car but could go into production eventually.
Ford Mustang
Ford Mustangs are one of the most popular cars on Instagram, based on the number of posts. According to TheDrive, the Ford Mustang has over 11,947,872, making it one of the most popular cars on Instagram.
The Ford Mustang was the first of its kind for Ford. Now joined by the Mustang GT and Mach-E, the Mustang Mach 1 is a muscular sports car, made for speed. Capable of doing 0-60mph in 4.8 seconds and has a top speed of 163mph. Features on the 2022 Mustang include Cruise Control (including Adjustable Speed Limiter), Driving aids (including Lane-keeping aid and pre-collision assist), Ford SYNC 3 Navigation with a 8" touchscreen and so much more.
Nissan GT-R
The Nissan GT-R is also a top contender for Instagram's most popular car, with 2.6M posts under the hashtag #nissangtr. This car is talked about daily on the platform, with posts that range from the look of the vehicle to the spec and new releases.
The Nissan GT-R is a track-style vehicle that is built for speed and performance while having a low RPM, allowing for an amazing driving experience. The GT-R has a precision-designed steering wheel and a 6-speed dual-clutch transmission. If it's technology you are looking for, the GT-R has a 8″ touchscreen and rotary dial controlled infotainment with entertainment and satellite navigation. Feel the power behind the GT-R and experience driving like you never have.
Stanced vehicles
Although this isn't a specific model, stanced vehicles are very popular on TikTok. A stanced vehicle is a modified vehicle that has been lowered. Popular videos include @that_gainjin and @thicc86 on Tiktok for their Nissan GT-R & Toyota Corolla. These videos combined have more than 11.5 million likes and more than 65.8K comments.
Most Popular Car Brands On Social Media
Depending on the platform, depends on how popular car brands are. Using a number of hashtags, U Switch have compiled a list of the most popular car brands per platform (Instagram, TikTok, Twitter, and Pinterest) and an overall most popular car brand.
Overall, the most popular car brand is BMW. The brand has over 61,300,000 hashtags on Instagram, 30 billion hashtags on TikTok, 183K on Twitter, and 913K on Pinterest.
It is then followed by: Ford, Mercedes-Benz, Honda, Toyota, Jeep, Porsche, Volkswagen, Nissan, and Audi.
Tesla, Kia, Seat, Land Rover, Chevrolet, Dodge, and Alfa Romeo make the top ten on other platforms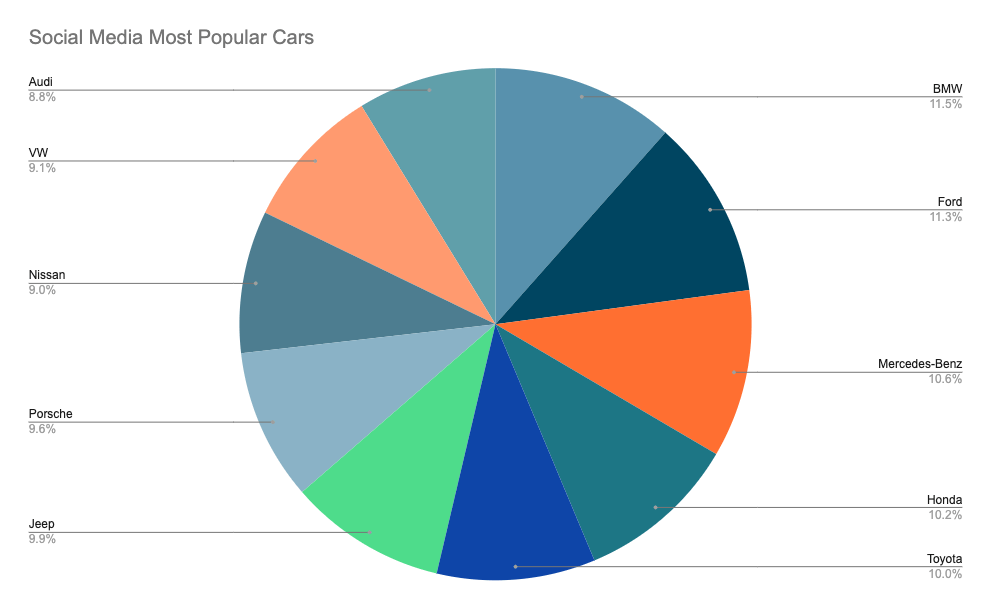 Do you have a specific vehicle in mind or just want to find the For more news, check out our news page or give us a follow on Instagram, Facebook and Twitter. Interested in one of these vehicles. Give us a call on 01245 373498 and we will find the finance plan for you.